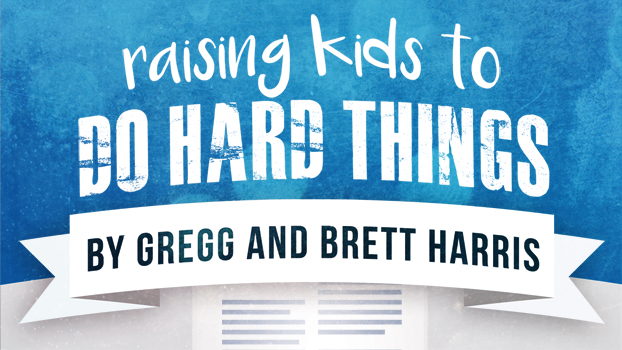 ---
Ever since Do Hard Things came out (back in 2008) we've had moms and dads asking us: "When are your parents going to write a book?"
Well, I'm pleased to announce that my dad and I are getting REALLY close to wrapping up our long-awaited book, Raising Kids to Do Hard Things.
This new book for parents is all about how to do hard things as a family and raise self-motivated kids who take the initiative at home, at school, and in their community.
It's about how parents can create an environment in their home that encourages and equips their children to rebel against low expectations.
It's about the difference between making your kids do hard things (i.e. forcing and nagging) and raising your kids to do hard things, where they've truly bought into the wisdom and goodness of stepping outside their comfort zones in service to God and others.
(You can download a rough version of the book's introduction by clicking here.)
The Crazy Story Behind This Book
There's a crazy story behind this book. And I want to tell you that story for two reasons:
First, because I believe in being transparent. I don't want to make it look like we have everything together when we don't.
Second, because the story has a happy ending — and you have a chance to be part of it through our Raising Kids to Do Hard Things online course.
So, here's the crazy story… (the short version)
My parents, Gregg and Sono Harris, signed a publishing contract to write Raising Kids to Do Hard Things back in 2009.
That's right… EIGHT years ago.
You may know what happened next. My mother was diagnosed with Stage IV colon cancer and passed away on July 4, 2010. My dad was suddenly a widower and a single parent with three kids still at home — the youngest only 10.
The book project was put on hold indefinitely.
Eventually, it became clear that my dad wasn't going to be able to write the book by himself. The publisher had tried teaming him up with various writers, but none of those partnerships had worked out.
As a senior in college, I realized that the most obvious person to write the book with my dad… was me. After all, I knew the material better than almost anyone. I had lived it. I knew how powerful my dad's ideas were, because they'd literally changed my life.
And I thought, "What better way to honor my father and mother than to help preserve and pass along some of their wisdom?" So, three years ago, in 2012, I jumped into the project full-time. 
Then disaster struck again. A few months into our marriage my precious wife, Ana, got really sick, really fast. Once again the book was put on hold as my dad and our publisher freed me up to take care of my bride.
I won't go into all the details, but if you are interested you can read more over at the Gospel Coalition website.
The last 5 years have been a roller-coaster. Ana is doing much better, but still has a long way to go. And along the way I have been chipping away on the book, sending chapters to my dad and to my editors as I can, and making slow progress.
Today, we have a manuscript. It's still rough around the edges, but the content is there. And here's where YOU come in…
(This is the happy ending)
Over the last few years we've had hundreds of Christian families walk through the entire manuscript with us through our Raising Kids To Do Hard Things online course.
Here's how one mom described the experience:
When I heard about the new class the Harris family was offering, I knew it would bless us. Even though our children now range in age from 15 to 28, and are all walking with the Lord, I learned so much from this class! The profound truths that are shared, and the wonderfully interactive format of the class, blessed my heart richly.

When the book comes out, it will not only be my new favorite baby shower gift, but we plan to also make copies available at our church. The vision cast through these teachings for who our children are supposed to be in the Lord is empowering and exciting. Hope will be renewed, even as the culture around us tries to deaden our understanding of who God created our children to be.

I strongly and urgently encourage all parents to take the "Raising Kids to Do Hard Things" online course. The world desperately needs our families to be salt and light, and this course is a wonderful tool to help parents fulfill that responsibility.

— Anne Conder
So here's the good news: Between April 9th and April 17th, 2018 enrollment for the Raising Kids online course is OPEN. We want to give more families the opportunity to engage directly with us and with the pre-release manuscript.
Our goal is to work with 500 families before submitting the final manuscript to our publisher. If you'd like to be one of them, there are two things you need to do:
1. Visit the course website and learn more.
2. Enroll in the course before registration closes on Thursday, April 12th.
I hope you can join us.
---