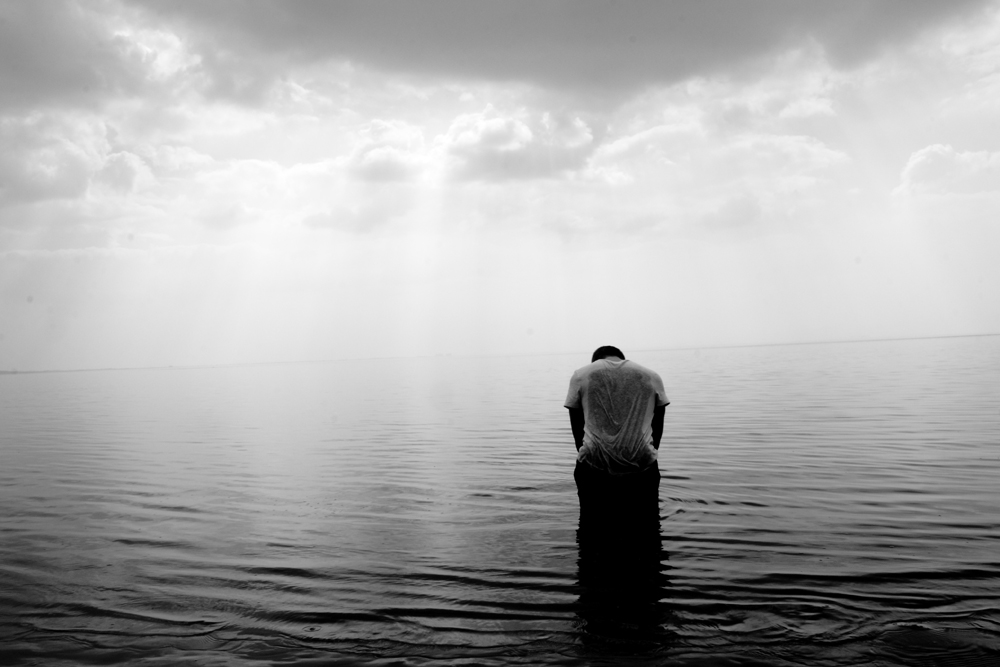 "Stop suffering!" reads the words emblazoned across the front of a church building not too far away from my home in L.A.
I can't say I know the people who put those words up because I've never even stepped foot inside the building. I don't know what denomination the church is a part of or the heart of the people attending it. I'm sure they're good people with love and hearts even bigger than mine.
But I can't help cringing whenever I drive past their big red-letter sign because I think of all the people who are going to put their faith in Jesus and continue suffering.
Like I said, I may be taking it wrong. Perhaps they mean "Stop suffering without the comfort and strength of Christ" or something along those lines. Yet, I know many people will walk into that church thinking "Maybe if I get whatever they have, I won't run into any more pain in life."
The truth is, Jesus won't necessarily end our suffering. At least, not in the way we would always like him to.
Five years ago my mom was killed in a car accident in Colorado, which, understandably, plunged my family into a season of deep grief and suffering.
Where was God when this happened? If Jesus died to keep us from suffering during our time on earth, then he miserably failed with that event.
I could pretend to not experience other kinds of suffering. I could probably act like I never get sick or that people never hurt or disappoint me. But I can't pretend my mom back to life. I can't stop that suffering. It's real and undeniable like the missing leg of an amputee.
I lost my Mom, but what about the people who deal with chronic illness, remain more faithful to God than most people, pray for healing with intense faith, and yet are never healed.
So why does Jesus allow this? How can God be a loving Father and still allow suffering into my life?
Before we answer this, we should clarify a few crucial truths.
First, God has the big picture in mind. With that big picture in mind–and all its details and fine tuning–he knows exactly what is best for all of eternity.
Second, God's wisdom is higher than ours. We can and should try to grasp God's purpose, but we won't always understand why God does what he does (Isaiah 55:8-9).
Third, God is always good. He made you and he loved you to death before you even had one thought about him (Romans 5:8; 1 John 4:10).
So if he sees the big picture, is wiser than us, and is always good then we can trust him in every situation.
Pure as Gold
Now, onto the problem of suffering. If God is good and all-powerful, why does he allow suffering?
Imagine you are a small nugget. But not just any nugget, an immensely valuable gold nugget.
Now imagine God holding you–his precious gold nugget–in his hands.
He loves and values you and delights in who you are. He also sees some things in you which are not gold and not apart of who he's made you to be. You are saved and holy in His eyes, but there are impurities which need worked out of your life.
And how do you work impurities out of gold nuggets?
You put them through a fire.
Remember, God has the bigger picture in mind. He sees the beautiful, clean, pure, gold you will become and isn't willing to leave you with less than his best. But you have to trust him through the process.
Even when our worlds seem to be falling apart: maybe our mother is dying, or we've lost our job, or a relationship has split into a thousand pieces–we have to trust God knows what he's doing.
He sees the big picture, his heart is always good, and he's using it all to refine us into pure, attractive, Jesus-reflecting gold.
"Behold, I have refined you, but not as silver; I have tried you in the furnace of affliction" (Isaiah 48:10).
"The crucible is for silver, and the furnace is for gold, and the Lord tests hearts" (Proverbs 17:3).
Suffering Magnifies the Beauty of Christ
This took a long time for me to understand, but Christ is glorified through our suffering.
Think about it.
Imagine a man with a beautiful wife and an endless amount of money and satisfaction. Now imagine if this man were given a choice to either keep his wife and lose everything else, or to keep all his positions and continue having every other desire satisfied.
What would honor or, you could say, "magnify" the beauty of his wife?
Of course we all know the heart-melting answer to the story is that he says "Nah, I'll keep my stuff."
NO!
The heart-melting, soul-satisfying, tear-jerking answer is "Take everything else from me, because to live with my wife is all I need to be satisfied!"
And that–to an even greater degree–is how suffering can magnify the beauty of Christ
God blesses us with many good things: health, friends, and family. Sometimes he even does incredible miracles. These all glorify him and reflect his beauty.
Yet, when everything else is stripped away and we still muster the courage–yes, through tears, struggle, and agony–to say "Jesus is all I need to be satisfied" the world takes note and the beauty of Christ is magnified.
A Suffering King
There is incredible purpose in suffering. There is nobility and honor. It is through suffering that we are purified into shining nuggets of Gold and experience greater intimacy with Christ. And it's through pain and disappointment we can demonstrate to the world where true satisfaction and rest are found.
But knowing all this doesn't necessarily take away the bite of sorrow. The burden of grief and pain is too much for us to bear, even in it's nobility.
That's why from the very beginning of time, God looked down the halls of history and asked "Who will help them carry their sorrow? It is too much for them. Who will stand in the gap and take the blow from their own wickedness?"
With reverberating enthusiasm, Jesus, God's only Son, stood up and did it. He took the blow. He took the full wrath of God for every sin any human ever committed in the history of the world.
Think about that. The Son of God took the eternal suffering of billions of people upon himself. That is absolutely astounding. That's extraordinary love.
"Surely he has borne our griefs and carried our sorrows; yet we esteemed him stricken, smitten by God, and afflicted. But he was pierced for our transgressions; he was crushed for our iniquities; upon him was the chastisement that brought us peace, and with his wounds we are healed. All we like sheep have gone astray; we have turned—everyone—to his own way; and the Lord has laid on him the iniquity of us all" (Isaiah 53:4-6).
An Awesome God
I've seen God move. I've seen him heal people of disease or provide the exact amount of finances a young family needed to get by. I've heard of him raising people I personally know, back to life. I've watched him bring divorced couples back into loving, healthy relationship.
I've also watched my mom die and siblings and friends wrestle against chronic illness. I've seen people go through painful relationships, lost jobs, church-splits, and a mountain of suffering.
Why does he allow some to live and others to die?
I don't know. Not always.
But I do know, when Christ chooses to send me through suffering he never fails to bring me to the other side. And after I've "gone through the fire" I come out refined, like gold, and my relationship with Christ, deeper and stronger.
Following Christ doesn't always mean suffering. But even if it does–if being in relationship with Jesus, the source of Life, means running through a fire…
I'm all in.
---
Photo by Joshua Earle on Unsplash
---