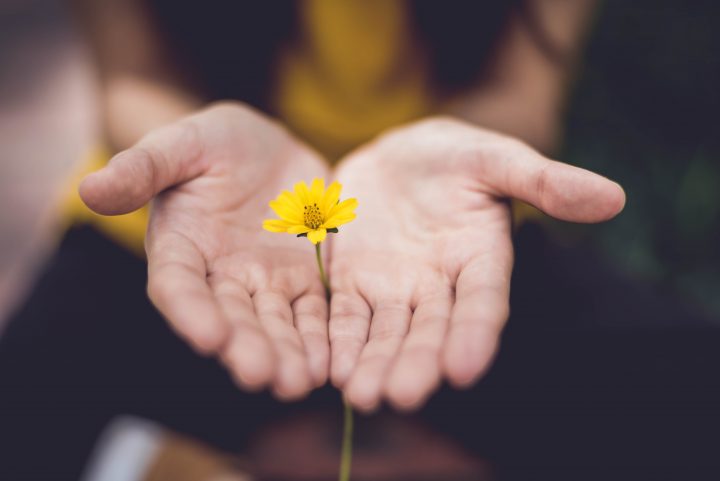 Do you feel pressure to make up for your sin, or "clean yourself up" before coming to God? Even though you know that God's grace is a free gift, do you sometimes feel unworthy of it? Or maybe you're a slave to other's opinions of you and need to be accepted in their eyes in order to feel okay.
To anyone who feels, for whatever reason, that you aren't good enough: are you tired of this striving?
Click To Tweet
I have some news for you: you're not good enough. And though this may seem terrible at first, that's actually incredible news! Before we can realize that, however, there are a series of shifts that need to happen in our thinking.
YOU'RE NOT DEFINED BY YOU
When I base my worth on whether I measure up, life becomes tumultuous. If I do things "right," according to my standards, I'm happy. But as soon as I mess things up, I turn quickly to despair. Sound familiar?
This is such a tiring way to live. When our hope and worth are based on our own performance, we can never be enough. We don't have to live like that, though.
Colossians 3:3 says, "For you have died, and your life is hidden with Christ in God."
As Christians, we have Christ's perfect record. Because of his death and resurrection, God doesn't see our failings. Instead, He sees Christ's shed blood.
The book of Isaiah reminds us, "Because you are precious in my eyes and honored, and I love you, I give men in return for you, peoples in exchange for your life." (Isaiah 43:4)
To God, we are precious and loved. He chose us to be his children. Our identity in God is unchanging. Our value is fixed. Nothing we can do can make us worth any less (or more) in God's eyes. Past or current failures do not have the defining word in our lives. Only God's truth can define our identity.
YOU'RE NOT BEYOND HIS GRACE
I've always thought of myself as the older brother in the story of the prodigal son. His self-righteousness and anger when the prodigal received grace were feelings that honestly, I sympathized with. Because of that, I always took the parable as a reminder to have grace for others, and completely missed the main point–God's grace for me.
Even when we go astray, God forgives and restores us. His grace will never run out. We don't have to hide our sin or try to clean ourselves up for God. Like the prodigal son, we can home to our father, straight from the pigpen. He welcomes us back with open arms.
"But God shows his love for us in that while we were still sinners, Christ died for us." (Romans 5:8)
We don't deserve grace, but that's irrelevant to God. The whole point of grace is that we didn't earn it, but were freely given it anyway.
Click To Tweet
When we live under the lie that we're not good enough for God's grace, we take all power from Jesus's sacrifice for us. Jesus died for us, while we were sinners, to free us from the law. He knew that we could never be good enough for God on our own, so he was good enough for us.
"He who did not spare his own Son but gave him up for us all, how will he not also with him graciously give us all things?" (Romans 8:32)
YOU'RE NOT THE HERO
Another well-known Bible story is that of David and Goliath. While the Israelites cowered in their tents, David, an unarmed shepherd boy faced the giant Goliath with nothing but a sling and the power of God. The story is an inspiration for many Christians to trust God more so that they can face the "giants" in their own lives.
There's just one problem: we're not David in this story. We're more like the fearful Israelites, hiding away from the battle.
As much as our culture says otherwise, we're not the hero of our story. We're not the ones who swoop in and save everyone––because ultimately, we're the ones who need to be saved.
If we were the hero, it would be our responsibility to save ourselves, and failure and weakness wouldn't be an option. But we're going to fail. We'll forget the hope we have in Christ, seek after our idols, cower in our tents. We can't save ourselves, no matter how hard we try. The good news is that we have a hero who will fight for us, even in our unbelief and failure.
Christ is the true hero of our stories. He's the David to the Goliaths of our lives. This battle isn't ours, and we don't need to fight it in our own strength. God fights for us. So, even when we fail, we can know the battle is won.
REST, AND OBEY
Do you see what I mean about incredible news? Yes, we're not good enough, but Christ was good enough for us.
As we rest more and more in the fact that God loves us unconditionally, we will begin to obey him. As we grow to be more like him, we will begin to hate our sin and gain a deep desire to follow his ways instead. God's grace, not striving, puts to death the sin in our lives and causes obedience.
Let the pressure to be good enough be lifted off your shoulders. Laying the burden of the law upon your shoulders will only cause pride, hatred, anger, and shame. Instead, rest in God's grace, and let that grow obedience in you.
You're not good enough, and that's okay. In your life today, remember that you're defined by what Christ says about you, not by your own goodness. Trust that you're not beyond his grace, regardless of your sin. Live in a way that recognizes that you're not the hero of your story. Finally, let the grace of God conquer your sinful heart and lead you to obey him.
So, are you tired of striving? Stop. You don't need to strive, because though you're not good enough, Jesus was good enough for you.
---