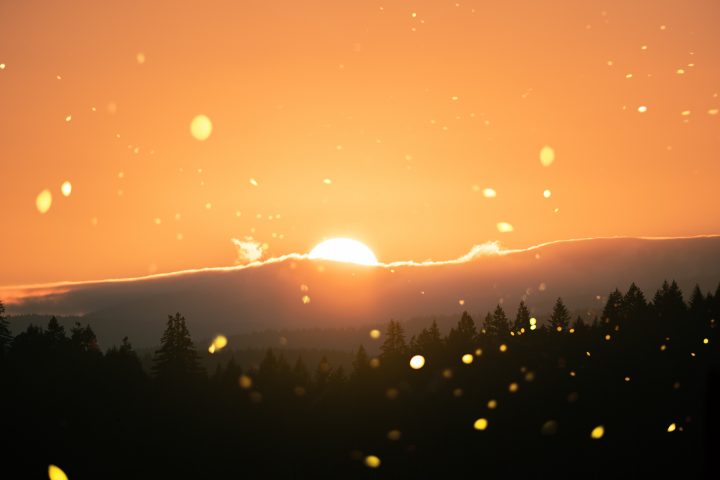 Can you believe we are already well into the third month of 2021?
It's been an exhausting year by just about every definition. A lot of things feel like they've been turned upside down and shaken up. There are so many different, pressing issues at hand that I find it difficult to know what specific needs are facing young people going into 2021.
Nevertheless, regardless of how COVID-19, stay-at-home orders, mask mandates, political elections, mass protesting, and occasional riots affected your life in 2020, there's one thing I imagine–I hope!–all of us desire. Coming out of a year full of anger, frustration, fear, and grief, I hope we all have a deeper desire and urgency to draw closer to Jesus, to press into his presence, and to lean on his hope.
We are in desperate need of hope
As I said, 2020 was a very heavy year for the world. Between sickness, death, lockdowns, and economic disruption, I don't think it's an exaggeration to say nearly the entire world was affected. For those of us in America, these problems were only exacerbated by the political tensions. I'm sure other countries had their own exacerbating problems. Naturally, many of us find ourselves exhausted by the never ending cycle of bad news; feeling in desperate need of hope.
But what hope do we have?
Some people might say immediately, "Well, the vaccine gives us hope!" While the possibility of developing herd immunity and moving past COVID-19 may be imminent, there's no guarantee that some other strain of the coronavirus or another virus altogether may show up.
Others might say, "Reopening the country gives me hope for our economy and our mental health!" This, also, may be true–but at the risk of sounding like a doomsday prophet, I would remind us that the economy is never guaranteed and that our collective, societal mental health was already deteriorating long before the pandemic.
Still others look to the new transition of political power–or a future transition of power–as a harbinger of hope. While we may momentarily experience relief as a result of certain politicians gaining power, this is constantly in flux and nations rise and fall all throughout history. Political power is a poor substitute for genuine, unshakeable hope.
As David says in the Psalms, "Some trust in chariots and some in horses, but we trust in the name of the Lord our God" (Psalm 20:7).
I hope, if you're a Christian, the obvious answer to my question "What hope do we have?" is Jesus. Our hope is not medicine, economy, freedom of movement, nor political power. Our hope is not tied to a thing or an idea but to a person. Our hope is Jesus.
Peter reminds us of this:
"Blessed be the God and Father of our Lord Jesus Christ! According to his great mercy, he has caused us to be born again to a living hope through the resurrection of Jesus Christ from the dead, to an inheritance that is imperishable, undefiled, and unfading, kept in heaven for you, who by God's power are being guarded through faith for a salvation ready to be revealed in the last time. In this you rejoice, though now for a little while, if necessary, you have been grieved by various trials, so that the tested genuineness of your faith—more precious than gold that perishes though it is tested by fire—may be found to result in praise and glory and honor at the revelation of Jesus Christ. Though you have not seen him, you love him. Though you do not now see him, you believe in him and rejoice with joy that is inexpressible and filled with glory, obtaining the outcome of your faith, the salvation of your souls" (1 Peter 1:3-9).
Teenager, your hope in 2021 is intrinsically tied to Jesus. He's not an idea to be studied nor a thing you can purchase, he's a person you can get to know.
Click To Tweet
So this brings me back to my original question: What does this mean? What does it mean to "get to know" Jesus?
What does it mean to "draw closer to Jesus"?
This is a loaded question. There is so much that goes into "knowing" Jesus and what it means to draw closer to him that we could write (and have already) dozens and dozens of articles on the subject.
In essence, "following Jesus" or "getting to know Jesus" or "drawing closer to Jesus"–whichever phraseology you wish to use–means to be his disciple. To be a disciple means, simply, that you follow someone, or, you're a student of them. I actually prefer the term "apprentice" rather than "disciple." An apprentice not only learns from but strives to imitate their teacher in an ongoing, real-life setting. That's what Jesus is calling us to do–to be his apprentices.
Being an apprentice is not simply about knowing who the teacher is. Rather, it also involves a significant amount of dedication, commitment, and hard work to learning from and imitating him as well. It takes discipline to apply yourself to a craft, show up every day, listen intently, and imitate the teacher to the best of your abilities. This is what it means to walk in relationship with Jesus. He is the Master; we are the apprentices.
Therefore, it would make sense to have some disciplines that we practice which create habits and rhythms that lead us to walking closer in relationship with Jesus–little "apprenticeship lessons," as it were.
Spiritual disciplines as a path to Christ (and to thus to hope)
While there are many facets to following Jesus, we see incredible value in Christian young people learning about and practicing the spiritual disciplines. Over the next several months, we want to explore the concept of creating habits and routines in our lives that keep us grounded in prayer, Scripture, and focused on Jesus.
We're going to have articles explaining what the spiritual disciplines are, how Christians have practiced them throughout history, and why they may be relevant to your life right now, in 2021.
Along with exploring the spiritual disciplines (which can help keep us grounded), we also want to explore some of the distractions which can uproot us and spark cycles of poor mental and spiritual health, namely, our relationships to technology and social media.
We at TheReb feel these things have a profound inverse impact on our lives as young people and we want to be thoughtful and proactive in encouraging healthy boundaries and forming healthy habits in our lives as we enter into adulthood.
In 2021 we are in desperate need of hope–that will only come from walking closely with Christ. So, are you ready to join us in this journey?
Let us know your thoughts and questions in the comments below!
---