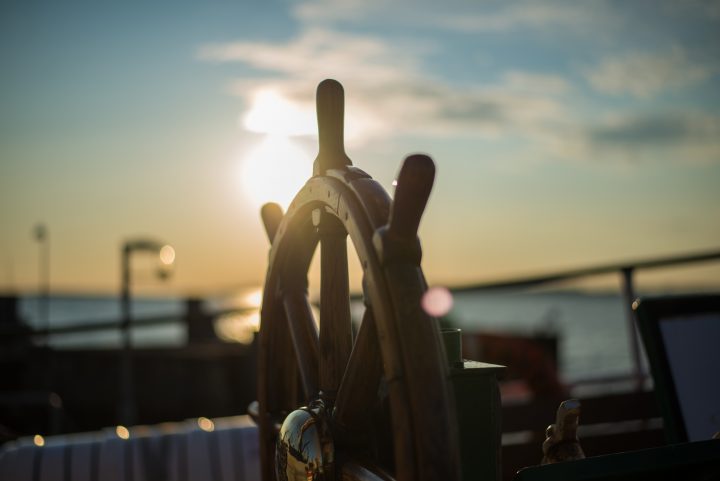 Allow me to unfold the incredible story behind the beloved hymn, It Is Well, so that you may know, just like the Spafford family, that your soul can be well, even though sorrows high as sea billows roll through your life.
This story is both heartbreaking and amazing at the same time. The reality that one man and wife could experience so much heartache and loss, while still glorifying God is an encouragement for those of us walking the hard road of pain and loss today.
A Bit of Background
Horatio Gates Spafford was born on October 20th, 1828, to Horatio and Elizabeth Spafford.
He grew up and eventually fell in love with a young woman named Anna, a Sunday School teacher who was fourteen years younger than him. Horatio patiently waited for her to "grow up" until they could get married. Once they were wed, he and Anna had four daughters over the next twelve years.
Horatio made a living as an attorney in Chicago.
"CHICAGO IN FLAMES!"
In 1871, a fire spread through Chicago, destroying most of the city. The fires burned for two days straight. It would leave around three-hundred people dead and thousands more without homes or shelter.
Around this time, Horatio had bought expansive real estate. The Chicago fire burned and destroyed everything in its path—including the land Horatio had purchased. Sadly, this huge financial loss and tragedy were but a scratch compared to the deep wound coming to the Spafford family.
The Greatest Catastrophe
Two years passed after the fire, and the Spafford family decided to plan a vacation to Europe. But due to pressing business, Horatio had to remain home, while his wife, Anna, and their four daughters sailed across the Atlantic.
This would be the last time he kissed or held his precious daughters.
An iron vessel struck the ship that Anna and their children were sailing on, and the ship sank within twelve minutes. Among the two-hundred-twenty-six people who drowned were all four of Horatio and Anna's little girls, Annie, Maggie, Bessie, and their eighteen-month-old baby.
Horatio's wife, Anna, who was remarkably saved, later sent a heartbreaking telegram to Horatio, "Saved alone. What shall I do?"
There is no anguish for a mother like the loss of her child—and Anna had lost all four of hers at once. I can't even comprehend the agony she and Horatio must have felt.
Although our suffering might feel minor compared to their loss, our suffering matters just the same. And our response to that suffering is very meaningful to the Lord.
When Sorrows Like Sea Billows Roll
Soon after the shipwreck, Horatio boarded a ship and went to console his suffering wife. The captain told Horatio when the ship passed near where his four beloved daughters had drowned. I wonder what thoughts must have been swirling around in his mind as he tried to apprehend the loss that had come upon his family so unexpectedly.
As he looked upon the blue-green waters that had swallowed up the ones he cherished, instead of bitterness and anger overwhelming him, a hymn of worship to God was born.
"When peace, like a river, attendeth my way,
When sorrows like sea billows roll;
Whatever my lot, Thou hast taught me to say,
It is well, it is well with my soul."
Not The End
We would all assume that Horatio and his wife had endured enough suffering for several lifetimes, but this was not the case.
God provided Horatio and Anna with three more children after the shipwreck, Horatio Jr., Bertha, and Grace. Though they did not replace their four lost children, we can imagine the joy they provided the empty couple.
But in a crushing blow, Horatio and Anna lost their four-year-old son, Horatio Jr. to scarlet fever.
Where did the Spafford family turn after another seemingly meaningless event? How could they find hope? Only in Christ could their souls be well and at peace amid the raging sea billows of pain and grief.
Whatever Your Lot
A pastor remembered the words of Anna Spafford after she had lost her girls, "God gave me four daughters. Now they have been taken from me. Someday I will understand why."
One day, we will understand why, too.
One day all that has been taken and ripped from our hands will be restored when the King returns. And all the unseen tears, the hidden aches will fade away as we behold the glory of His face—King Jesus.
Click To Tweet
One day all that has been taken and ripped from our hands will be restored when the King returns. And all the unseen tears, the hidden aches, the feeling as though no one understands, and the sin that continues to harm and overpower us will fade away as we behold the glory of His face—King Jesus.
Until then, if you are trying to keep your head above the raging waves, hold on to this great hope:
"And Lord haste the day when the faith shall be sight,
The clouds be rolled back as a scroll;
The trump shall resound, and the Lord shall descend,
Even so, it is well with my soul."
---