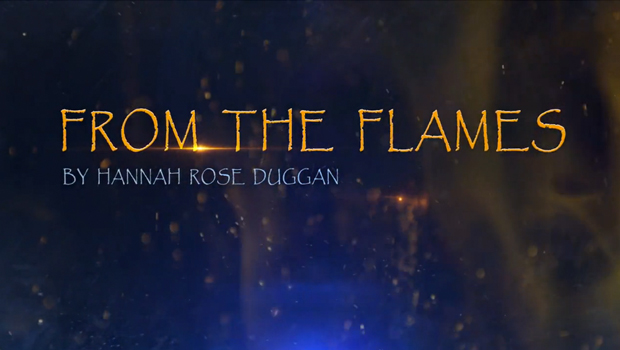 My name is Hannah Rose Duggan. I'm sixteen years old, and I've recently self-published a historical fiction novel. Three years ago, I did the "Do Hard Things" Bible Study, and it changed my perspective in so many ways. I realized that I didn't have to wait until I graduated, became an "adult", or got my college degree to set goals for the future. I could start doing big things for God right now.
I've always loved to write stories. So I made a plan. My goal was to write a historical fiction novel, and publish it. Now, three years later, my book is published through Westbow Press, and no one is more blown away by that than me. God has been so faithful to give me the strength I need for every step of this process.
From The Flames is about a teenage girl living in fourteenth century England, when the Bible was being translated into English for the first time. The task was difficult, dangerous, and completely illegal. These people had never heard the Word of God, and they were hungry for the truth, but the truth would cost more than they ever imagined. She is swept into an adventure that could change not only her eternity, but the future of an entire nation.
In my walk with God, I want to delight myself in Him, and this is the desire of my heart; To provide stories that draw people closer to the Lord, and give them an excitement about His Word. In writing, I hope to encourage other young people to dream big dreams for Christ. Life is short. Our youth is even more so. Let us not waste it!
What I need for this project is mainly exposure. Because the novel is self-published (and on a very tight budget), much of the responsibility for getting the book out there and into the hands of readers falls to me, my family, and my friends. I am prayerfully seeking advice and any promotional help that can be offered. This is God's story, and I am continually placing it in His hands. I am so thankful for a place to share what He is doing with other like-minded youth. Let's keep doing the hard things that count! God Bless you guys!
From Alex & Brett: Share this post on Facebook or Twitter and then let us know that you did via the comment section. We'll pick one person to receive a free copy of Hannah's book (so give us a reason to pick you).
+ Visit Hannah's Website +
+ SUBMIT YOUR PROJECT PITCH +