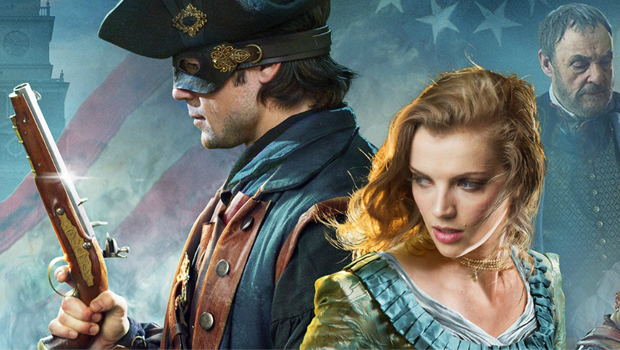 ---
I just wrote to Brett, telling him about an incredible Christian action-adventure movie that is coming to theaters in April called Beyond the Mask (www.beyondthemaskmovie.com).
Many Christian leaders around the country have endorsed Beyond the Mask, including Dr. Del Tackett with The Truth Project, Dr. Jeff Myers with Summit Ministries, Focus on the Family, Michael Farris with HSLDA and many others!
I've had the privilege of working with Burns Family Studios, started by two homeschooling families with a passion for reaching others for Christ through high quality movies, and it's been a complete joy to do so.
This is an amazing example of young people doing hard things — through filmmaking — for the glory of God. And not only filmmaking, but top quality, Hollywood quality filmmaking! This is too good of a movie to not tell you about.
But first, watch the trailer so you can see for yourself:
---
And take a look what some top Christian leaders are saying:
---
There are several reasons I'm sharing this movie with you at The Rebelution. One of them being that this is a powerful, well-done movie with the potential to reach many for Christ.
Not only that, but Beyond the Mask is an action-adventure movie and what do young people watch nowadays? Action-adventure movies! The media is a powerful tool and in our day and time, a powerful way to reach young people like ourselves.
Another reason I'm sharing Beyond the Mask with you is this is an amazing example of young people doing hard things for the glory of God, as I mentioned earlier. The Rebelution is all about that and Beyond the Mask is such an encouragement to us as rebelutionaries!
Burns Family Studios was started years ago when nine cousins (from two Burns families) were inspired to make movies for Christ. They started out small and continued to sharpen their skills and widen their horizons over the years when it came to the latest technology in filming and the skills needed. Now here they are in 2015, about to debut in theaters all over the country because God gave them a dream to make movies for Him years ago.
---
Lastly, I'm sharing this because Beyond the Mask is too good of a movie to not be seen by millions around the country. We're looking for people with a desire to share Christ through films and through this one in particular!
One way to do just that and to make an impact on your own community is to request that Beyond the Mask come to your local movie theater. It's free to do on our website and takes only five minutes.
You simply pick the date (April 6-9 is our target dates), local movie theater, and time. Then, you simply spread the word, telling your friends, neighbors, co-workers, church friends, everyone about the movie and get them to come!
Over the years, I've seen God do amazing things through The Rebelution, like funding well projects in Africa, sending thousands of Valentine's cards to imprisoned kids, spreading the word about kids needing to be adopted, the list goes on and on. God is working in our midst and in our generation.
Fellow rebelutionaries, let's join in and impact our culture in a way that they'll take notice — and that's through the media. Together, let's bring Beyond the Mask to our communities and make a difference for Christ!
---
Share Your Thoughts in the Comment Section!

There are currently 12 Comment(s)
---
Photo courtesy of BeyondTheMaskMovie.com
---