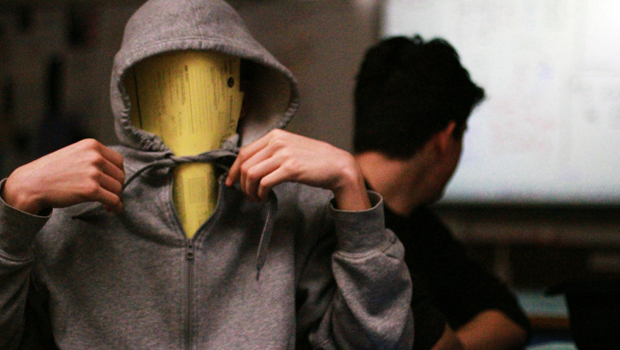 ---
For the past five years, I have placed a high value on my popularity — what people currently thought of me. It was one of my biggest priorities, but not in the way the typical teenager thinks of popularity.
You see, I am different than most people. I believe that "fitting in" is undesirable. "Being normal" is not on my list of goals in life.
In fact, I want to be un-normal. And really, that's not a bad thing. I believe we are called to be the light of the world and the salt of the earth, not just another common human. We were truly made to be Uncommon.
But, like most good things, wanting to be different can be taken too far. I guess a better way of describing my mindset was: I wanted to stand out, I wanted to be noticed, I wanted to get the glory for anything I could.
I convinced myself I was doing it so I could be a bigger influence on others for Christ… But now, I'm not so sure.
At OnePoint (a weekend church event I attended last month), I learned the value of humility and not caring about what people thought of me.
The 3 messages were about 3 different things:
"Are you stretched?"
"Are you stuck?"
"Are you stranded?"
Unknowingly, I fit into every one of these categories. I didn't know it at first, but this weekend exposed the truth: I was broken in all three ways.
I felt stretched. Life and busyness kept competing for my attention and more importantly: competing with God. I was not gaining ground in that battle either.
I felt stuck. I felt like none of the sin or bad habits could be beaten. Like the more I tried, the more I failed.
I felt stranded. I felt as if I was the only one who encouraged other teens around me. I felt like I had no one when things really got tough. I felt that I was alone in a room full of people. I was lonely. And I didn't know how to change it.
When I preached, I sounded forceful and almost angry. Where I could have been encouraging, I was saying "you aren't doing enough!"
I was highly respected but not viewed as an equal. I intimidated others and was viewed as weird. I just wanted a friend who understood me and could help me!
Here, on TheRebelution.com and other internet sites, it was no different. I wanted to be the popular one, who everyone loves and thinks as wise, cool headed, and controlled.
The opportunity for me to "shine", be noticed, and be "loved" came that weekend. My small group needed someone to be "Fusion Man", my group's In-Home-Challenge superhero creation. But someone else was picked and I was not happy — I was jealous.
In the long run, it was a good thing I wasn't Fusion Man. I needed a dose of that humility.
The truth is this: God loves me whether or not I am popular. He can use me even when I mess up. He is glorified in my weakness.
You see, God uses me DESPITE me. And who am I to try to worry about if His will is good for my life?
I am no one. But He uses me anyway.
God can use us even when we don't stand out
At OnePoint, the speaker, Dr. Mark Bedwell, told us the story of the crippled man at the pool of healing in John 5. The man was convinced he needed to get into the pool to be healed, but Jesus had other plans, and healed him differently, and in a better way.
This simple story of the man who was stuck by the pool really affected me… and it transformed my life.
Jesus has reminded me once again of His love for me and how I don't need to be insecure when I have Him, always taking care of me.
Coming into the conference, I didn't know what to expect. Coming out, I gave my story to 200 other teenagers, hoping it would change their lives as much as it had mine.
I told them about my struggle. I poured my heart out over the microphone. I told them what I learned — and how much it changed me.
But I wasn't perfect. All of a sudden, that wonder of "what people thought of me" suddenly came flying in.
But I said to myself: "No. It doesn't matter what they think. God can use my story however he wants."
Initially, I thought I did only "okay" — and that my story was just another story everyone would forget in a week.
But later someone came up to me and told me they really loved my story. It wasn't what I was expecting. That showed me yet another eternal truth: God is glorified through my weakness.
So now, I've learned I don't need to worry what people think. Because God loves me no matter what and he uses my terrible life for something great — despite me.
And that is mind blowing!
---
Share Your Thoughts in the Comment Section!

There are currently 0 Comment(s)
---
Photo courtesy of Eryne! and Flickr Creative Commons.
---