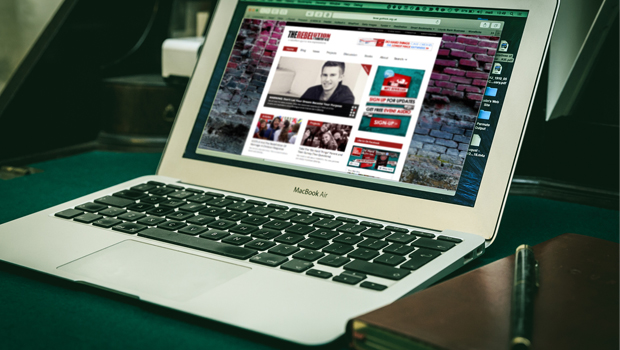 ---
For the last several years I've run this website by myself.
And to be honest, I've had trouble keeping up with it.
As hard as I've tried there have been many days and weeks where caring and providing for my sick wife hasn't left time for making a blog post or responding to important emails.
As a result you've probably noticed gaps in posting or wondered why you never heard back from me after submitting an article, story, or project for publication.
But God has been gracious. Despite my limitations, TheRebelution.com has continued to grow, thanks to our 100+ amazing teen writers and the community of rebelutionaries that frequent the site.
Growth despite limitations
Here are some amazing statistics:
Our website traffic this month is on track to double our traffic from the same time last year.
So far we've exceeded 50,000 unique visitors in four out of the first seven months of 2015 — after doing so only once in the eighteen months prior.
Our readers (that would be you guys!) are incredibly engaged with our content, posting nearly 2,700 comments on the site each month — an average of 112 comments per post.
On Facebook we regularly reach over half-a-million people per month — and in April 2015 we reached 871,762 unique users with our content.
Here's just one example: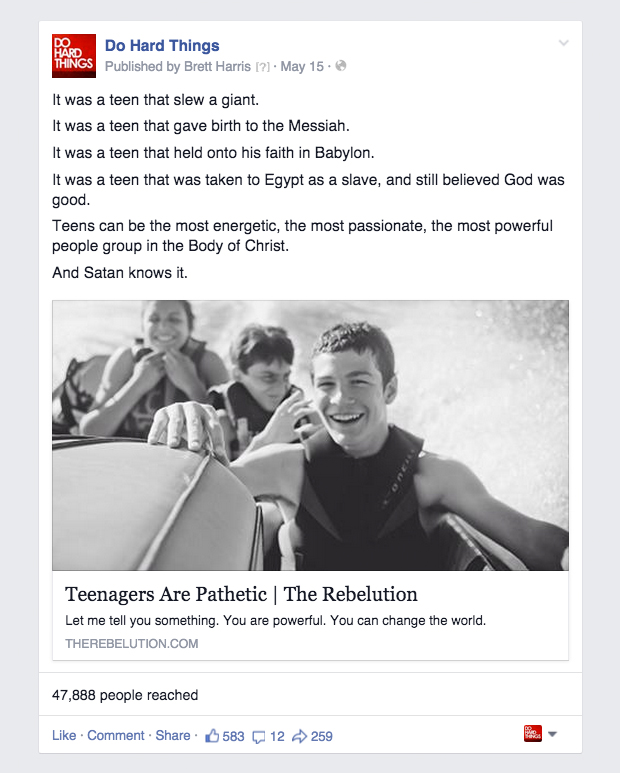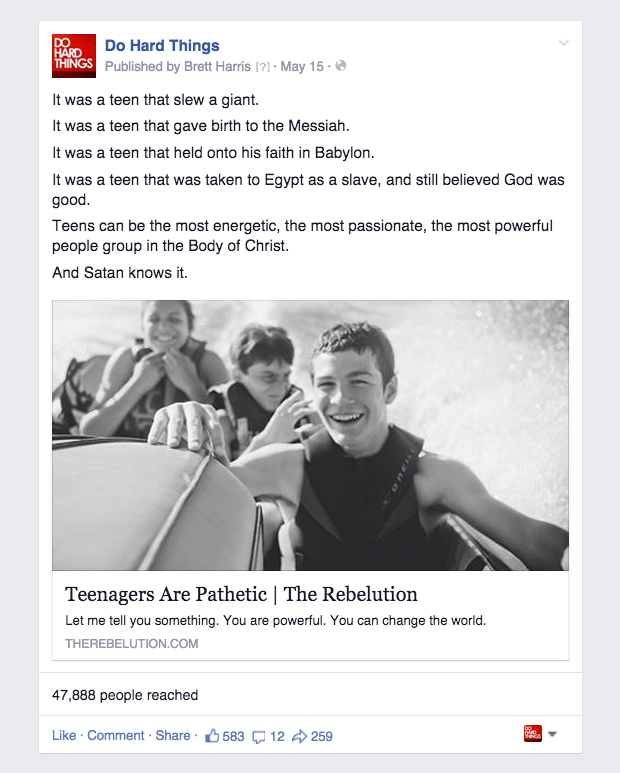 This is incredible stuff and an amazing tribute to God's faithfulness and the strength of our movement. I've been barely maintaining the website — and yet it grows and grows.
An exciting announcement
Still, I'm convinced we are barely scratching the surface of what God can do (and what I believe He wants to do) through TheRebelution.com.
And today I get to announce an exciting step into the future: the formation of a brand new Editorial Team, led by our very own Jaquelle Crowe.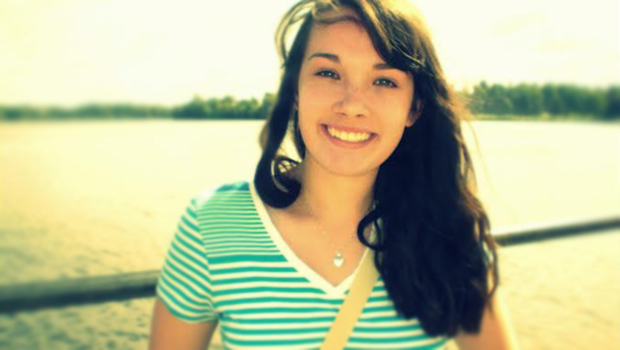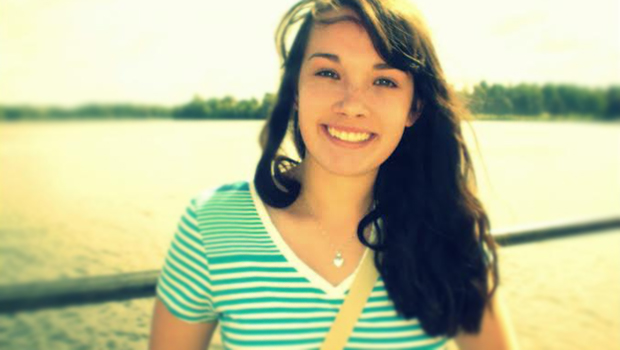 You probably already know Jaquelle as one of TheReb's most popular (and prolific) contributing writers. She's not only an excellent writer, she writes about important things in thoughtful, powerful ways.
Over the last two months Jaquelle had gradually taken charge of all aspects of TheRebelution.com — from reviewing submissions, to posting articles, to managing our Facebook page.
Assisting Jaquelle every step of the way is our first Editorial Intern, Disqus User: liv737johnoxide, who requests that we not publish his name given his plans to serve the Lord overseas in hostile nations.
Their work has already taken our operations to the next level.
Young people submitting content to the website will now hear back within a week, rather than never or after several months.
We are posting six times per week without fail and twice-per-day on Facebook.
Everything I used to do for the website is being done better and more consistently. But this is only the beginning.
Greater things are yet to come
As a team we have bigger goals than just setting up good systems and keeping the trains running on time.
What Jaquelle and liv737johnoxide have accomplished in their first few months on the job is incredible and foundational — but it's just the foundation.
As the new Editorial Team takes day-to-day operations off my plate, I am being freed up to focus on new projects.
Let me be clear: I'm not going anywhere. These changes are about freeing me up to do the things I want to do most, like writing, teaching, and growing the impact of this message and movement.
For example, earlier this year we launched Do Hard Things University — an online training course for young people who want to change the word.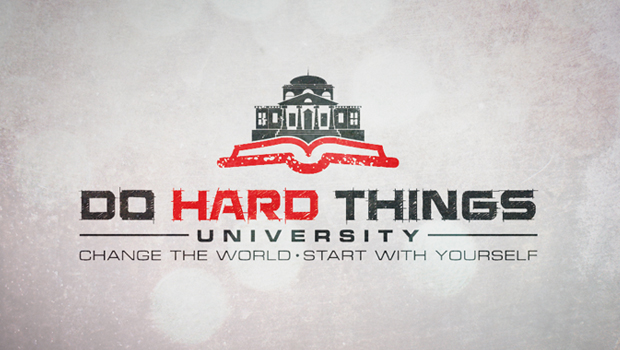 Now my dad and I are almost ready to launch Raising Kids to Do Hard Things — an online course (and upcoming book) that trains parents how to raise self-motivated kids and do hard things as a family.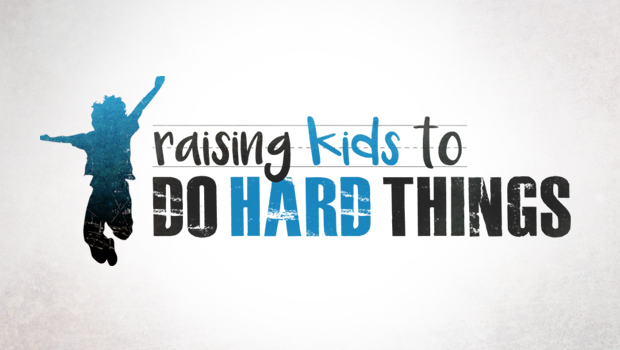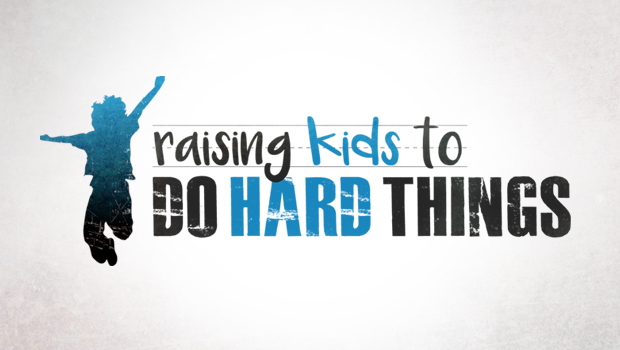 These resources (and more to come) are all designed to help teens and parents take the concepts of "doing hard things" and "rebelling against low expectations" and actually apply them and live them for the good of others and the glory of God.
In addition to new books and online courses, we have lots of plans for growing the website, training our writers (and launching many writing careers), and maybe even starting a Do Hard Things Podcast.
We're stoked about the possibilities as we continue growing our team and pursuing excellence in everything we do.
Please pray for us and for the movement
These are exciting days, but we need your prayers. Pray for God's guidance. Pray for clarity of vision. Pray for steadfast determination in pursuing that vision. And pray that we would do all things for the glory of God alone.
We'll keep you updated in the weeks and months ahead.
---
Share Your Thoughts in the Comment Section!

There are currently 4 Comment(s)
---
Photo courtesy of Matt Gibson and Flickr Creative Commons.
---