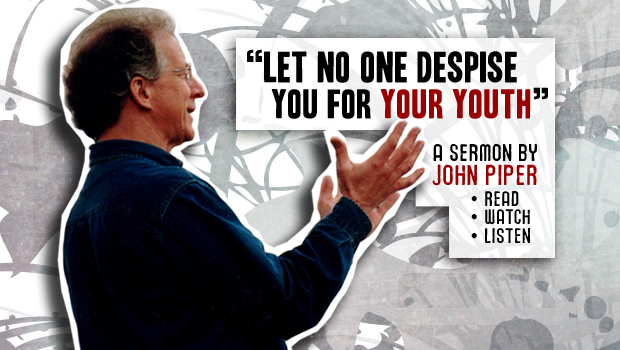 ---
This past Sunday, Pastor John Piper kicked off a five-part series on Bethlehem Baptist Church's vision for a rising generation of young people — a series our father, Gregg Harris, will wrap up on May 18th there in Minneapolis.
The passage of Scripture that he used was 1 Timothy 4:12 — the theme verse of the Rebelution. In fact, the message of "rebellion against low expectations" and "do hard things" features prominently throughout. But that's not why we share it.
The reason we bring this message to your attention is because it does one of the best jobs we've ever seen (and far better than we could do ourselves) of laying out the call of 1 Timothy 4:12 and a biblical portrait of the perils and potential of youth.
This message is a must read (or listen to) sermon for rebelutionary teens, parents, and youth workers. Don't miss out on the benefit. Get a taste below.
Let No One Despise You for Your Youth
A Vision for the Next Generation

Please turn with me to 1 Timothy 4:12. This is one of Paul's words to the younger Timothy who needed to be reminded that his expectation for what he could be were too low. I will begin with this verse, make a few comments about it and then step back and try to get the bigger biblical picture. Paul says, "Let no one despise you for your youth, but set the believers an example in speech, in conduct, in love, in faith, in purity."

Four brief observations:

1. Youth Can Be Despised

Youth are often looked down on because of attitudes and behaviors that are annoying or immature. Some of the things people often associate with youth are disrespect, rebellion, self-absorption, cliquishness, conformity to peer pressure, indifference to serious issues, and a fixation on fun as the only thing that satisfies. If these are pronounced, people can even despise youth. Paul implies that in saying, "Let no one despise your youth."

2. Youth Should Not Be Indifferent to What Adults Think

Paul is telling Timothy to do what he can as a young man to keep that despising from happening. Don't be indifferent to what older people think. Care about it. Take steps to win their approval. "Let no one despise you for your youth, but set the believers an example in speech, in conduct, in love, in faith, in purity."

3. Youth Should Not See Adult Opinions As Supreme

But the way he tells Timothy to overcome being despised is not to adjust to their attitudes. He does not say, "Let no one despise you for your youth, but find out what they want and act that way." Peaceful relationships between older and younger is not of supreme value. Adaptation to older people is not the point. He does not absolutize adult expectations. He does something very different.

4. Youth Should Look to Ultimately God's Standards

Paul says, The way I want youth to pursue not being despised is look to God's standards of love and faith and purity. In that way, even young people can become examples to older people. "Let no one despise you for your youth, but set the believers an example in speech, in conduct, in love, in faith, in purity."

The point is not: Find out what older people want and give it to them so they don't despise you. The point is: Find out what kind of words and conduct God wants and do that. He gives love and faith and purity as examples of what we should do in our words and conduct. Let all your words and actions come from faith in Christ. Let them be loving. And keep yourselves sexually pure.

Now that may make some adults despise you. If you stand up at school for the way of sexual abstinence before marriage, there will be adults that despise you. But you will be right, as well as the adults who really matter, and God himself will not despise you.

So Paul's main point is that Timothy should not have low expectations of the impact of his life toward those who are older. He should look to God, believe in the gospel, do what God calls him to do, and in that way become an example to the rest… Now step back with me to get a larger biblical picture of the perils and possibilities of youth. Let's move in order from original sin to a bold life of God-centered gospel-obedience beyond all low expectations.
+ Read It / Listen to It +
Share Your Thoughts in the Comment Section!

There are currently 44 Comment(s)
---