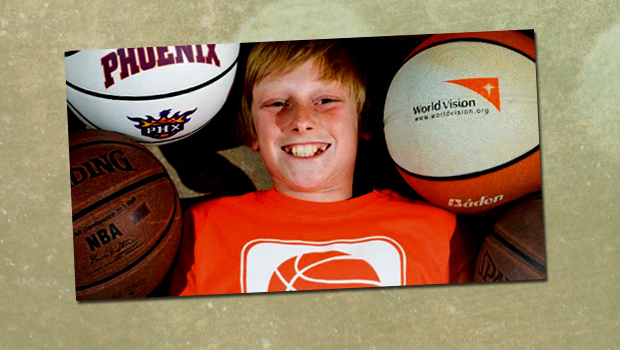 Like many 14-year-old guys, Austin Gutwein loves basketball. Unlike most, however, Austin has used his love for hoops to raise over $450,000 for AIDS orphans in the nation of Zambia. Hoops of Hope began in 2004, when Austin was 9 years old.
"I wasn't as good as other players, and I'm still not," Austin told CBS Sports. "But I'm really passionate about helping kids, especially kids who are less fortunate than me. What really moves me is when I hear about kids who have been orphaned."
"A World Outside My Own Backyard…"
In the spring of 2004 Austin saw a video by the Christian humanitarian organization World Vision about children who had lost their parents to HIV/AIDS. Recalling Jesus' words in Matthew 25, he decided that he had to do something.
"What really hit me hard was just thinking about how I'd be if I lost my parents," the young Arizonan explained to MSNBC during a trip to Africa. "I'd be devastated, and yet there are 15 million children in the world that have."
A Simple Idea = Hoops for Hope
After begging his dad to let him do something, Austin was put in touch with World Vision. The next thing he knew they were having a conference call. And after taking stock of his talents and interests, they came up with a simple idea: free throws.
"We decided that I would shoot free throws in honor of the kids who were orphaned due to HIV/AIDS," Austin explains. 2,057 free throws, to be exact — one for each child that would be orphaned that school day by HIV/AIDS.
On December 1st, 2004 — World AIDS Day — 10-year-old Austin shot his 2,057 free throws. Individuals in his community had agreed to sponsor him, raising over $3,000 for World Vision, enough to help eight orphans. But Austin wasn't satisfied.
"1,000 of My Friends to Join Me…"
"The second year I went up to my dad and told him, Hey Dad, I want to shoot free throws again, but this time I want to get 1,000 of my friends to join me." Austin says, laughing. "He kind of gave me that look."
That year Austin and his dad went around to dozens of churches and schools and told them about Hoops for Hope. Austin reached his goal: 1,000 friends shooting free throws for orphans. And he wasn't ready to stop yet.
The third year, in 2006, Austin decided that he wanted to do a specific projects. That year they raised enough funds to build a school in Twachiyanda, Zambia. Last year they raised over $200,000 for a medical testing center in Sinazongwe.
And this year their goal is to raise $290,000 for a second medical center, along with 1,000 caregiver kits and 1,000 bicycles for caregivers in Zambia.
Austin Gutwein: A Real Rebelutionary
Austin has built a school and a medical center. He has been featured nationally by major TV networks. He has even traveled over 10,000 miles to Twachiyanda for the opening of the school he helped to build — arriving as the guest of honor.
All those things, by themselves, don't make him a rebelutionary. What makes Austin a rebelutionary is that, despite all that he has accomplished, he doesn't view himself as anything special. He is a wonderful example of how and why we do hard things.
"What I've learned from doing Hoops of Hope is that it can take just one kid to make a difference," he explains. "One kid just has to have a passion. And also, I've learned that God can use anybody. You don't have to be out-of-the-ordinary, you can just be a normal kid. You don't have to wait to be an adult to make a difference. You can make a difference in the lives of anybody, just by wanting to do something."
Closing Thoughts
Austin, we want to commend you for your example and testimony. Your heart for orphans and desire to move your generation to action is an inspiration. May God bless and strengthen you as you continue to "do hard things" for Him.
Everyone else, we want to encourage you to learn more about what Austin is doing and get involved. But more than that, we want you to catch a vision for how God could use you — normal, ordinary you — to make a real difference for His glory.
Take Action – Get Involved